Looking for an affordable, pre-made Squarespace design kit to give your blog a makeover? AllisonLindstrom.com recently got a facelift and I thought I'd share a complete review on the website theme and the incredible company behind the project!
I really love the makeover that I got for my website- it's a minimalist, beautiful design but it took me forever to find! So instead of you also having to search through dozens of design templates for your own site, I decided to share with you what I found and talk about the one that I used.
So if you're looking for a similar design for your website, I've included as much information as I could here in this review.
But first, a comparison!
My Old Homepage...
This post contains affiliate links but I only recommend things that I love. Station Seven has incredible designs and I think you'll adore them too! You can read my Disclaimer here.
An Few Important Notes First
Before anything else, you should note that this isn't a sponsored post. I found Station Seven organically and I used my own money for this design. My review here is completely based on my own experience and opinion.
The second thing is that this particular design is for Squarespace platforms only. I'm sorry but I don't think you'll be able to use this design if you aren't a Squarespace user. (But Station Seven has incredible Wordpress themes here and I list some of my favs below. Yippee!)
Lastly, some of my other websites are on other platforms too, but for AllisonLindtsrom.com in particular I'm currently on Squarespace. It's got its pros and cons so if you're interested in a post about a comparison between Squarespace and Wordpress, feel free to leave a comment here to let me know.
I talk about things I use with Wordpress and that's still 100% true. Just wanted to clear up any confusion. :)
1. Basic Information
· Source
The design template I used is called Acadia (pictured below) and it's by the amazing team over at Station Seven. I don't remember how I originally found Station Seven (maybe Google or Pinterest?), but they are honestly one of the only businesses I could find that creates these design templates for Squarespace.
· Price
The Acadia design alone costs $79 USD. If you want to have them install it with a demo set-up, the design + installation cost is $249 USD.*
The fact that they priced a design kit for Squarespace for only $79 just blows my mind away! That is such a good deal, especially compared to other businesses out there. You've got to get one of their designs, it is such a steal!
*Prices may change over time. These are current at the time this post goes live.
· Files and Turnaround time
As soon as you purchase a design you receive all the files right away. There's no waiting or lag in between when you purchase and when you can start setting things up.
· Return Policy
Just like most (if not all) companies out there who sell non-tangible products, Station Seven has a no returns or refunds policy.
Be sure to really read through everything before you make a purchase. This policy is basically the same compared to any other company that sells themes so their it doesn't come as too much of shock. But I wanted to state it here just in case you've never purchased a pre-made design before.
2. Main Features
· Layout Highlights Products
I chose this design in particular because I really liked the main homepage layout. It caters to the different products, incentives, and features that I offer as a blogger.
Squarespace is easy to use but it's also very basic. What I loved about Station Seven is that they took a basic Squarespace template and created a layout that was more fitting to my business. Acadia in particular just helps me take my design to the next level, while still reflecting my personality and my brand.
· Video Tutorials
As soon as you purchase one of their designs, they provide video tutorials so that you can install it on your own. This makes it very easy for you to install since they walk you through (literally!) the entire process.
I've purchased designs in the past where they just leave you to figure it out on your own (talk about Stress 101...) but Station Seven doesn't do that.
I thought I knew Squarespace pretty well but I ran into some hiccups and I was very thankful they had those tutorials. Otherwise, I would have been really frustrated.
· Customizable Graphics
The next thing that I love is that they provide high quality customizable graphics that you can edit in Photoshop (you can get a free trial here).
I really liked the general aesthetic that they created but I did want to change a few things and customize them to my particular branding. So it was already wonderful that they had pre-made graphics available, but the fact that I could customize them was even better!
And they offer what they call Blog and Social packs! These are pre-made blog post and social media graphics that match each blog design's branding.
Do you know what this means?! It means that all of your graphics (on your blog, Instagram, Facebook, Pinterest, Twitter, etc.) will coordinate and look streamlined. They couldn't make the branding process easier!
Here's a sneak peak at the Blog and Social packs that they have available for Acadia, but whatever theme you choose has their own set of graphics as well. Woohoo!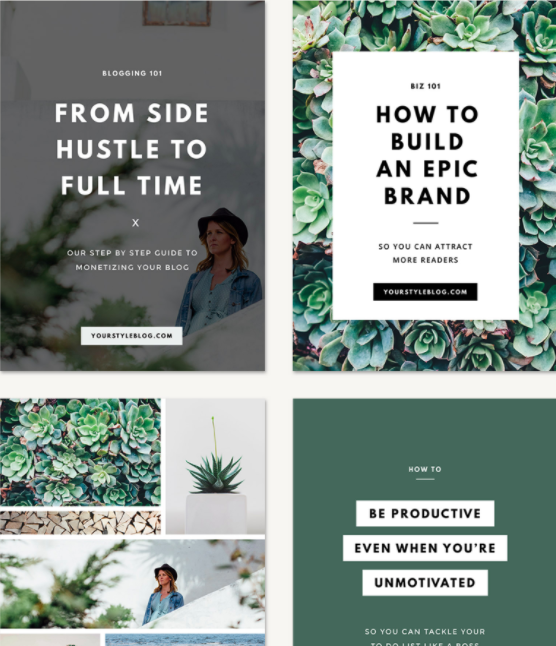 Blog post/Pinterest graphics. Yes, girl!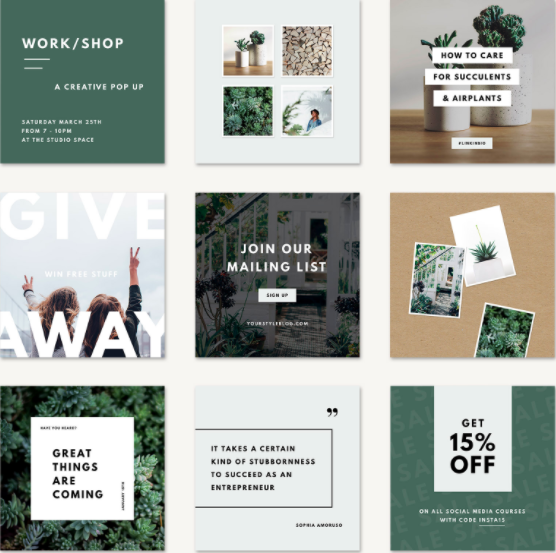 Social Media/Instagram graphics
Is This Product For You?
If you're trying to decide whether or not this particular theme is for you, here are a few things to consider as well as some pros and cons:
The first thing you have to check is if you're on Squarespace. Because the Acadia design in particular is only for Squarespace (at least at this moment anyway, who knows if that would change over time, right?). But Station Seven does offer designs for Wordpress as well so that's an option too.
You have to be able to follow video tutorials if you don't hire them to install it. You don't really need to be savvy with codes or anything too technical like that but you have to be willing and ready to put in all the hard work. There are parts where you'll have to insert codes or move around the different layouts and areas, so it's quite hands-on.
They offer two options when you decide to purchase it:
1. You can purchase the basic design and DIY it following the video tutorials
2. You can opt to have them do the installation for you. The only caveat is that you can't use this option for a blog with existing blog posts. Their installation means they'll create an entirely new blog.
*Prices may change over time. These are current at the time this post goes live.
PRO's:
· Very easy to install.
Even if you end up going with the cheaper option of the design alone, it's very easy to install! Their tutorials take you step-by-step so you don't need to be a Squarespace expert to make it work.
· Pre-made Graphics
Station Seven provides pre-made graphics that you can use and customize for each of their designs. So when you're trying to decide which one to purchase, just know that any of the graphics that you see on there will come with the design (though I don't think this extends to the stock photos that are used- you'd have to double check on that).
Everything is pre-made for you and I can't tell you just how much that is a relief for me! I'm the type of person who will try to design something but still won't be done approximately 43 hours later...
· Extremely Affordable
I know I've already mentioned it a couple of times, but I will say it again. I've done my research and Station Seven was the most affordable company that I could find. I never found anything even close to $100 for a Squarespace pre-made design kit!*
*Prices may change over time. These are current at the time this post goes live.
· Access your files on their site
You can access your files anytime. Once you purchase one of their designs they'll send you all the files that you need, and all of that will be included in your account in Station Seven.
I've purchased pre-made designs where the file came as an attachment in an email. If I needed to re-install the design or access the file on a different computer, I had to play the "find-the freaking-email-they-sent" game. Not fun.
Station Seven just has you create an account online and you can access that account and all of your files at any time. Hallelujah!
· The Acadia design is great for displaying products
The layout that the Acadia design provides is really conducive to displaying your products/services/incentives in a certain manner that highlights them.
Instead of the old-school latest blog-posts-only homepage, you can go for the, "Oh wow! She's an expert on this… and she's got products like this…" vibe. When your readers land on your site, you can get them excited to really buy into the brand that you've created.
If you're running a blogging business, you want to get a layout that can highlight everything that you're offering. The Acadia theme in particular really does that very well.
· The Acadia design has a sidebar
I think this was the only Station Seven Squarespace design kit that also has a sidebar. I've lived without one before and I really hated it (yeah, just call me Prima Donna) so it was my main priority when I started looking for a new design.
· The Graphics can be used with any brand
The graphics Acadia comes with are beautiful but also pretty minimalist. So it's easy to customize them to fit your brand.
· No code knowledge necessary
I can't stress this enough- you really don't have to be a techie person. Just follow those tutorials and you'll be fine.
CONs:
Honestly, I've had to dig in to find stuff to list here. It was hard to find anything I didn't like! But here are a few things that you should be aware of:
· You cannot hire them to install on an existing blog
If you have to hire them to do the installation for you, you'll have to start with a completely new website. If you have a blog that has existing content like I did (I have content going back to 2015), they're not going to be able to do the design for you.
On the flip side of this, you can opt to just buy the design and hire somebody else on Upwork to do the installation for you.
· Photoshop required to edit pre-made graphics
You'll need Photoshop if you want to customize the graphics. Now it does come with a free trial version so you can technically just sign-up for the trial and cancel your subscription after you edit the graphics.
I personally have and used this cheaper version of Photoshop for this project and it worked out just fine.
· The Acadia design is for Squarespace only
This particular design is for Squarespace only. So if you're on Wordpress and really love this design, I don't think you're going to be able to use it.
However, they do offer a ton of other designs on Station Seven that can work on Wordpress so if you like the awesome vibe their designs give off, you can check them out their list of designs here.
Here are some of my favorite Wordpress designs.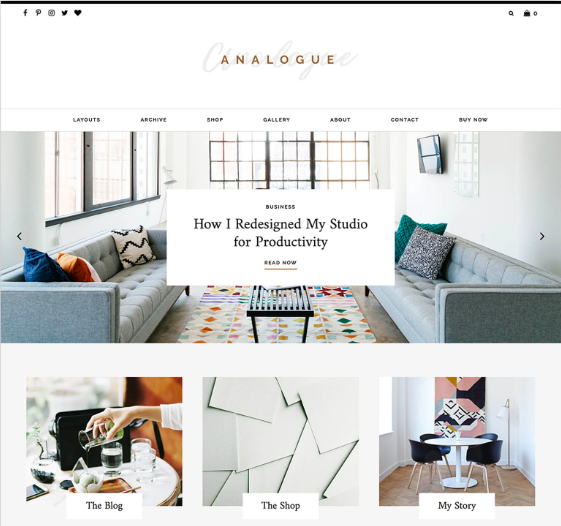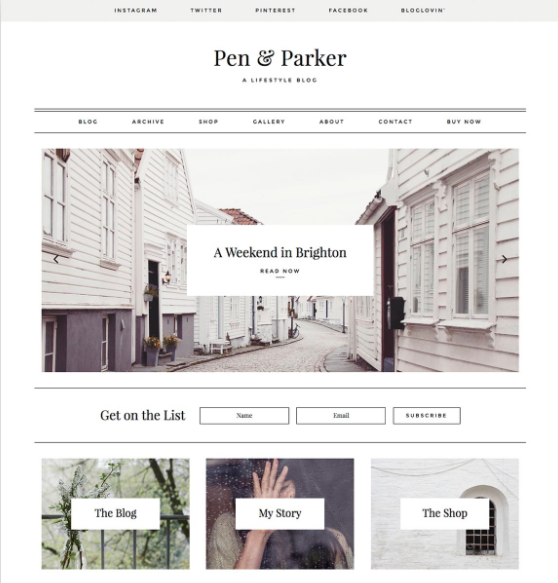 OVER-ALL OPINION
First and foremost, you've gotta love their price! I've done my research and trust me when I say that you're not going to find a pre-made Squarespace design for $79 that looks this good anywhere else.
In addition, their customer service is pretty darn great! Mike and Brittni are actually the people that created Station Seven and they are so friendly. But beyond that, even the rest of the staff is incredible.
I had so many questions (yes, I'm one of those customers :) and they were really easy to reach out to. It's not like when you send out an e-mail then 4 weeks later the company finally gets back to you. They are so prompt and kind.
Go check them out. If you like the Acadia design but you're looking for something else they've got plenty of other Squarespace designs you can check out as well as Wordpress designs.
Over-all, I definitely recommend Station Seven and this Acadia design, there are so many great things about it and almost no cons to getting it.