Looking to get some inspiration outside of that blogger bubble? To get out of that world where you eat, sleep and breath everything blogging? Yeah, it happens to us sometimes, even to the best of us. So I thought I'd share something different today and cover some inspiration that is not necessarily about blogging.
Being a good blogger doesn't always mean we read about "blogging" per se, 24/7- there are other books that'll give us inspiration too! And as I'm always on the hunt for some good book suggestions I thought to share my favorite ones from this month. So here are some of my chosen good reads for the blogger/entrepreneur looking for some inspiration.
Some of the links in this post are affiliate links but girl, I only recommend stuff I love.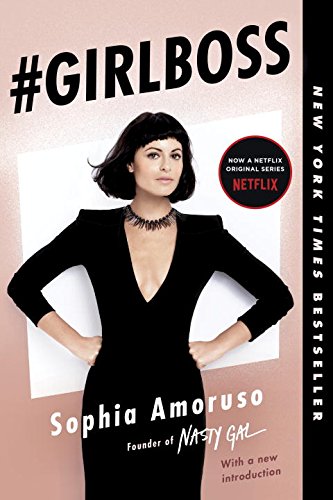 I read this book last year around the end of 2016 and I still open it every couple of weeks to look through some of my favorite quotes. One of my absolute favorites was, "Money looks better in the bank than on your feet."
The author, Sophia Amaruso, created Nasty Gal, which started out as an eBay account where she used to sell vintage clothes, and it obviously grew into a great success because she's writing a book about the whole thing!
I especially love how Sophia didn't take the traditional route to finding success. She didn't get her business experience from a college degree- she just went worked with her instincts, work ethic, sweat, and tears. I love that kind of devotion because it's very similar to what we do in blogging.
To my knowledge, there is no bachelor's degree of blogging. It would be great if there was because then the learning curve of blogging would not be so difficult. But being able to relate to that aspect of Sophia's journey is just great for any blogger.
Sophia also has that kind of misfit vibe about her, and I feel like, as bloggers, a lot of us feel like misfits and that's why we start a blog in the first place. So many of us just find our people online!
Every time I open this book, I feel so empowered! It's definitely a good read; you should totally check it out.
2. Subscription Marketing
If you're interested at all in any subscription marketing service or having a membership club, or anything like that, this is a good read.
What I love about the idea of running a membership club is that it's so different and yet so similar to blogging. Obviously you're consistently providing content but you're also much more involved in the community and 1:1 aspect of connecting with your members.
I currently sell courses to help people start and run a profitable blog. But what happens is that students buy the course, we work together for a little bit, and then they move on. I love that they're succeeding and progressing in their journey but I feel kind of bummed when we're no longer connecting!
I miss working with them, learning their story, brainstorming together, and chit chatting back and forth. So I started the Blogging Business Club because I wanted to nurture the community that I already had going.
BUT! Subscription marketing is just this beast that I don't really know yet. I'm not very familiar with running a subscription site and, though I do see some similarities with blogging, I just feel like I'm way in over my head when it comes to this. This book has provided me with very helpful, basic tips to get my feet wet.
By: Gary Chapman & Arlene Pellicane
I initially got this book with my child in mind. Obviously, in this day and age, our technology is just so different (with our iPhones, iPads, etc…) from what we had in the 90's when I was growing up.
I feel like my son James is far more technologically advanced than I ever was when I was three years old. I mean, hello! We had VHS tapes! Our kids don't even understand the concept of having to wait and rewind a VHS before we can watch something. They just don't know the struggle...
So I grabbed this book because I thought it was going to be giving me some tips to make sure he isn't totally obsessed with screen time 24/7. Then I found that some of these tips were really great for the whole family as well!
Kids these days spend so much time looking at screens, and that's all we do as bloggers as well. For example, if I'm not in front of a camera filming a vlog then I'm in front of some other device. I'm in front of one right now writing this and I'll be in front of one later when I'm editing graphics and sharing the post on social media. I'm constantly connected.
One of the things that the author talks about is the importance of eye contact. When you spend so much time in front of a screen, you tend to move away from that and it's a skill you don't practice very often. A lot of lessons in this book really resonated with me, but that one in particular hit me pretty hard because I hadn't thought of practicing it at all.
So, if you or your family spends a lot of time in front of a screen, I definitely recommend taking a peek at this. It's got some helpful tips that we all know is probably good for us, like turning off the TV an hour before bed time and things like that. It's a good reminder for just getting back down to the basics and living without screens 24/7
4. The Subtle Art of Not Giving a…
I loved this book! I had been avoiding it for some time because I have a young kid and I didn't want that particular title just lying around the house. But it was at my library and I knew I had to check it out just by reading the first couple of pages. It is absolutely one of the best "no non-sense, get over it, you can do this" kind of books!
Warning: It's definitely not for someone who wants to avoid that kind of language entirely, and that's probably why I think I avoided it for so long.
If I could describe this book perfectly I would say that it's kind of like that best friend or sister that gives you the advice that you don't want to hear but you desperately need to hear.
A good piece in this book is around page 100 where Manson talks about this boyfriend-girlfriend relationship. The girlfriend had done something wrong and the boyfriend was just feeling terrible about it. And then the boyfriend says, "Ultimately, while she was to blame for how I felt. She was never responsible for how I felt. I was."
I feel like this is the kind of stuff we need to hear because, as bloggers especially, we spend so.much.time. on social media and dealing with online relationships, which are sometimes kind of messy and not all roses and rainbows.
If you can get over the title of it (though I don't think my mom would...ha!) you are absolutely going to love this book. It's so refreshing and it makes you feel far more optimistic about the path your life if going to take.
A Happier You Means a Happier Business
I know I've covered something different from my usual but running your blogging business doesn't mean you have to read about blogging only, 24/7. Each one of these books helped me change my perspective on certain things and if I'm a healthier, happier me, I know that it will translate to my business and my blog. It can do the same for you too!
So if you're looking for some inspiration outside of the blogging bubble, these books are a great start!